Information about the links or groups of links shown below.
They're links....duh!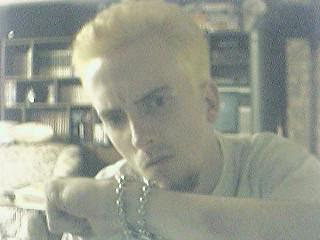 I think maybe blonde is the way to go?
Business Ethics
Extreme Canadian Championship Wrestling My home and yours! Well, if you wrestle that is...
A&B Sound Oh yeah, my OTHER employers =P
Highspots Order a mask and hide your shame!
National Wrestling Alliance Our umbrella organization, tradition rules!
Favorite Sites
Dropkick Murphy PNW wrestler, and punkhead =P
Moondog Manson PNW wrestler, webdesigner, great forums and columns
Pimp Rock Palace Best site for music news, reviews, interviews, and other 'iews!
Lords Of Pain Wrestling news and columns
Puroresu Power Puroresu (Japan wrestling) news site run by Zach Arnold
Pro Wrestling History If you can think of a supercard, the results are more than likely here!
Puroresu.com
Much like the previous link, if you can think of a title belt, the history is here!
Club International "American Wet Dream" Skag Rollins and "Canadian Superstar" Seth Knight
Eddie (Elmo) Osbourne B.C. bred, but Ontario fed, the ACW Cruiserweight champion! *Note: Eddie probably lost the belt while I updated my site. Kidding Eddie!*